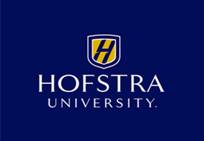 101 Hofstra University, Hempstead, NY 11549-1010
News Bureau (516) 463-6818  
Contact: Stu Vincent, 516-463-6493, 516-448-4913 (cell)
stuart.vincent@hofstra.edu
For Immediate Release: Nov. 6, 2007
Hofstra Team Sets New School Record for Problem Solving in Annual Programming Competition
Students finish 19th out of 56 teams in "Battle of the Brains"
Hofstra University, Hempstead, NY – A team of three students on Sunday set a new Hofstra record for the most problems solved in the 32nd Annual Association for Computing Machinery International Collegiate Programming contest for the greater New York region.
The Hofstra team for the "Battle of the Brains" consisted of seniors Matthew Ficken and Andrea Blumenthal and sophomore John Farrell, who completed five of nine problems using computers, the most ever by a Hofstra team. This is also the best finish of a Hofstra team since 2003, when a team finished 11th and solved four problems. The competition at Keene University in New Jersey drew teams from 30 colleges from throughout the northeast, including Yale, Princeton, Columbia and Cornell.
 "I am extremely proud of their achievement," said Associate Professor of Computer Science Church Liang, who noted that some teams included graduate students and some colleges offer scholarships to attract the best international students. "Showing that they can compete with the best in the world also reflects positively on the quality of education they're receiving at Hofstra."
The ACM International Collegiate Programming Contest (ICPC) traces its roots to a competition held at Texas A&M in 1970 hosted by the Alpha Chapter of the UPE Computer Science Honor Society. The idea quickly gained popularity within the United States and Canada as an innovative initiative to challenge the top students in the emerging field of computing.
IBM became a sponsor in 1997 and participation has grown to involve tens of thousands of students and faculty in computing disciplines at 1,756 universities from 82 countries on six continents. Regarded as the oldest, largest, and most prestigious programming contest in the world, the event fosters creativity, teamwork, and innovation in building new software programs and enables students to test their ability to perform under pressure. The world finals will take place next April at the University of Alberta in Canada.
Hofstra University is a dynamic private institution where students can choose from more than 140 undergraduate and 155 graduate programs in liberal arts and sciences, business, communication, education and allied human services, and honors studies, and a School of Law.
###